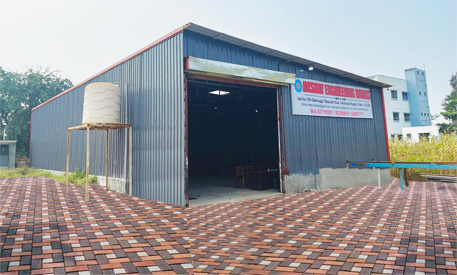 Akshay Engineering Works (AEW) incorporated in 1999, has now a Group of Companies, renowned for delivering tailor made energy & water conservation solutions through reliability engineering, methodical systems design approach and built in quality products through in-house manufacturing facilities, in Maharashtra, India.

Akshay Engineering Works has already been an ISO 9001 : 2008 Certified Company, having its accreditation received from M/s TUV Nord, for all manufacturing Units.Akshay Engineering Works has started Integral Low Finning (enhancing surface area of tubes) and commercialized these fin tube products, during the year 2013, to cater the domestic as well as overseas market.
Akshay Engineering Works manufactures Integrally Low Finned Tubes, a major and very critical component required by manufacturers of Heat Exchangers, Chillers, Cooling System and many other Heat Exchanger Applications.

Akshay Engineering Works is manufacturing INTEGRAL LOW FIN TUBES processed out of quality plain tubes of Non-Ferrous Material and Ferrous Materials of both Seamless & Welded, procured from the original Indian plain tube manufacturers only, to ensure quality fin tubes. Akshay Engineering Works can manufacture Fin Tubes to the exact customer required lengths, with maximum upto 20 meters. The diameters of tubes finned are in the range between 9.52mm & 38.10mm with 11, 19, 26, 28 & 40 Fins per Inch. Finned Tubes with Internal Ribs have also been developed & commercialized. The Fin Tube products being manufactured by Akshay Engineering Works are well comparable with any Japanese, European, Italian or American make and Fin Profiles achieved are in real and uniform.

Many high reputes have enrolled our name in their approved suppliers list, for their regular requirements of fin tubes for original equipments as well as re-tubing of existing units.

Akshay Engineering Works have a modernized office at Pune Vadgaon Sheri, which is hardly 3 kilometres from airport and 8 kilometres from Pune station at Vadgoan Sheri touched on the Pune Nagar road with sufficient power, Water and all other infrastructure facilities. very well experienced qualified engineers and trained staff have been employed to execute the jobs as per customer requirements.

Akshay Engineering Works have own R & D Division to cater to the needs of development of new products with in-house manufacturing facility.